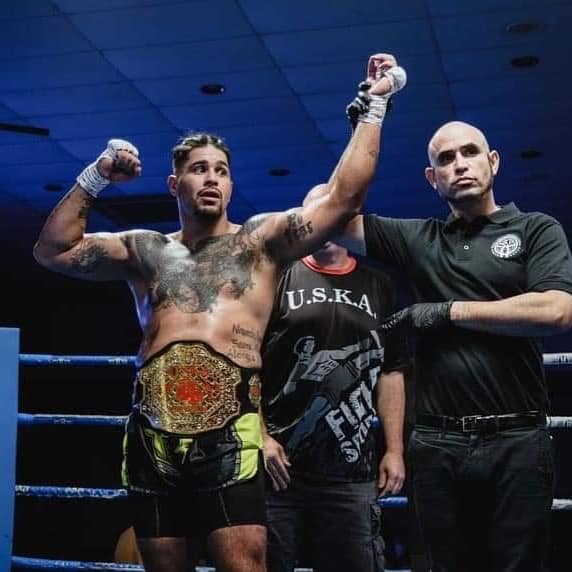 Davis Oracio
Coach Davis, a prominent figure is known in the area for his expertise and achievements in kickboxing. His martial arts journey began with Shotokan Karate, where his dedication and perseverance led him to earn a black belt ranking. This foundation in karate set the stage for his transition into the more competitive and dynamic world of kickboxing and Muay Thai.
As a competitor, Coach Davis demonstrated remarkable determination, passion, and skill. His impressive kickboxing and Muay Thai record boasts eight wins and only two losses, with a noteworthy aspect being that all eight victories were secured by knockout. This record not only reflects his prowess in the ring but also his tactical acumen and technical expertise.
Currently, Coach Davis holds three prestigious titles, showcasing his dominance in multiple weight classes. He is the titleholder in both the 175-pound and 185-pound Muay Thai divisions, as well as the 205-pound division of the USKA. These achievements underscore his versatility and adaptability across different weight categories, making him a formidable force in the sport.
At the academy, Coach Davis brings his wealth of experience and knowledge to his role as a kickboxing coach. He is not just an instructor but a mentor who inspires his students through his own journey and accomplishments. His approach to coaching is holistic, focusing not only on physical training but also on mental fortitude, strategic thinking, and the discipline required to excel in martial arts.
Through his guidance, Coach Davis Oracio has cultivated a generation of martial artists who admire his competitive spirit and aspire to reach similar heights. His legacy extends beyond his titles, as he continues to contribute significantly to the martial arts community, shaping the future of kickboxing and Muay Thai.